Student Liaison
Welcome GW Students to the 2016-2017 Academic Year!
What is a "Student Liaison"?
The position of student liaison at Gelman Library was created to keep library personnel connected to library users. Yesenia Yepez is here for you when you have complaints, concerns, or questions. As liaison, she is your voice within the GWU Libraries. If you have any additional questions about the student liaison, please contact Yesenia at ygyepez@gwu.edu. You can also find Yesenia in Gelman 220 on Sundays 7pm-9pm, Mondays 11am-5pm, Tuesdays, Wednesdays & Fridays 2:30pm-6:30pm.
A little more about Yesenia:
She is currently a senior at GW majoring in International Affairs with a Concentration in Latin America and minoring in Sociocultural Anthropology. Yesenia is interested in migrant worker flows and trans-border relations, particularly those between Mexico and the United States.
How to Advertise at Gelman Library:
Want to promote your event in Gelman Libaray? Of course you do! Check out the posting policy before you hang your next flyer. Warning: Any flyers which do not meet the requirements listed in the link below will be removed. They may be reposted once the specified changes have been made.
Flyers: http://library.gwu.edu/Posting
Gelman Reading Lounge Book Displays:
For additional advertisement, student groups are able to sponsor a book display on the entrance floor. The Student Liaison will gladly help groups connect and work with one of Gelman's research librarians. Together, they will create a display that not only publicizes the student group's purposes and goals, but allows Gelman to illustrate these with its collection. These are great before a large event or to attract new members. Please contact the Yesenia Yepez for more information to get started today!
So many possibilities! Here is an example one Yesenia did for the 6th floor for October!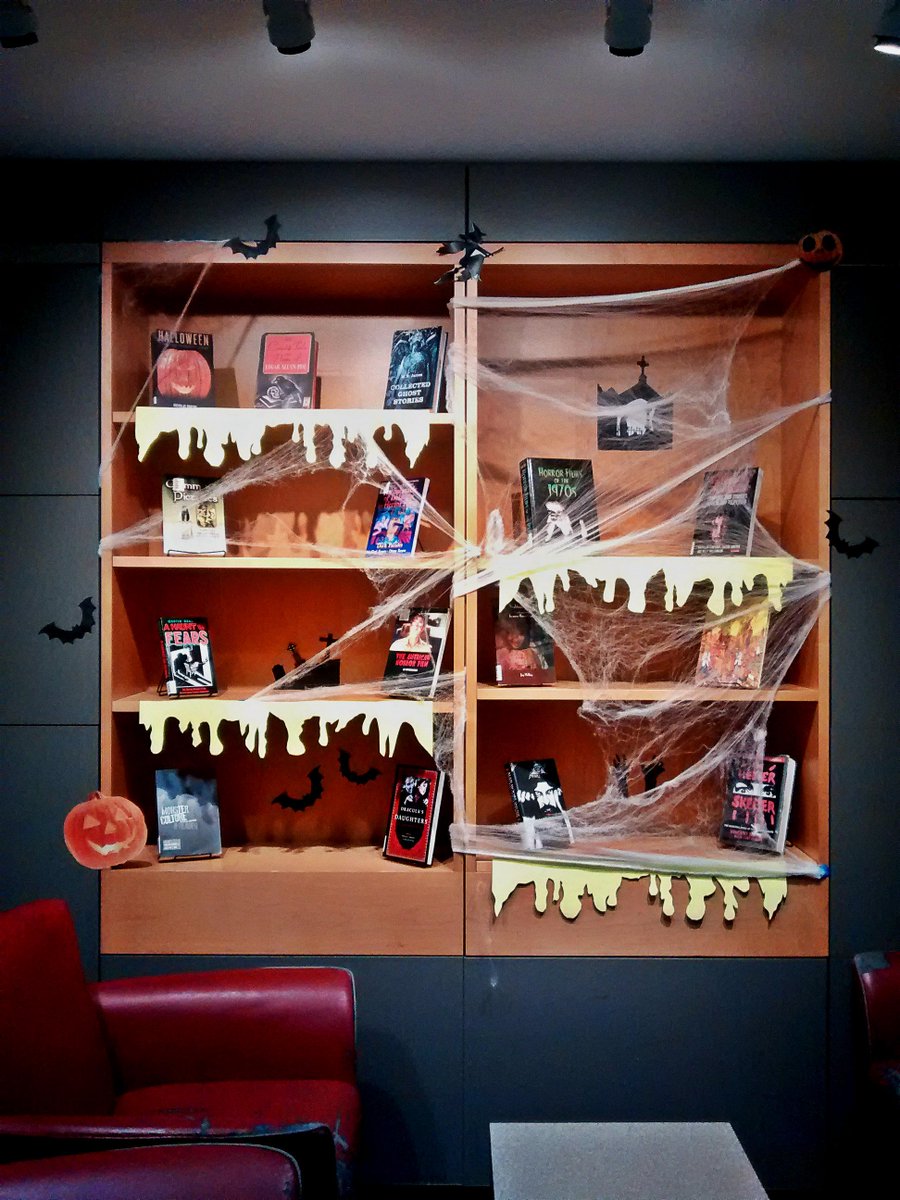 Events at Gelman:
Want to host an event at Gelman? It's totally possible! Gelman is always happy to help students and staff hold events for other members of the GW community. Some spaces that would be great for hosting study break stations are Gelman 219 and the Student Lounge located on the Entrance Floor. If you have a fun idea for an event let Yesenia know! Let's work together to make this next school year a success :)
Pictured bellowed are some events from last year:
Midterms Study Treats - Fall 2015 Semester
Student and Student Liaison Collaboartion:
The Undergraudate Publications Corner
The Undergraduate Publications Corner features journals and magazines showcasing the talents and interest of student writers within specific disciplines. Copies of past and present issues are available for visitors to read within the library as well as to take a copy for the road. General information about each organization is provided for students who are interested in working with or writing for a specific publication.
Check out the work of fellow GW undergraduates in these publications:
The Globe: Undergraduate Academic Journal of the IAS
Omnibus of the GW Roosevelt Institute
GW Pre-Law Student Association Undergraduate Law Review
Wooden Teeth: The George Washington University's Art and Literary Magazine
The ACE Magazine
What do you think of Gelman Library?